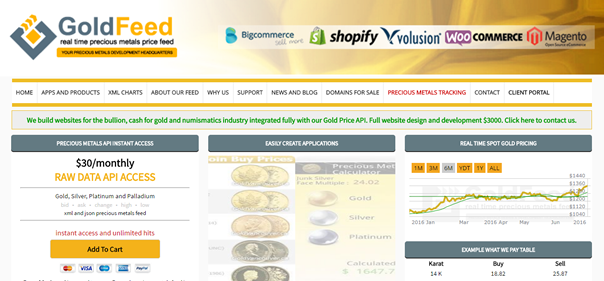 Welcome to Gold Feed. We provide a real time API for gold, silver, platinum and palladium as well as the most common forex pairs. Sign up and receive a free 24 hour FREE trial of our platform to ensure it is right for you and your company!
We also provide precious metals apps, plugins and extensions that allow you to integrate real time precious metals pricing into your eCommerce store. With dozens of integrations completed you can be assured that Gold Feed is your go-to precious metals development headquarters.
Need design and development help? Need a completely new precious metals, bullion, cash for gold or numismatics website with integrated real time price charts, payout tables and live metals pricing? A fully completed website with will cost you $4000.  Money well spent as we know what it takes to help you achieve success in the precious metals industry.
Choose Gold-Feed.com. The "Gold Standard" in precious metals real time pricing and development!